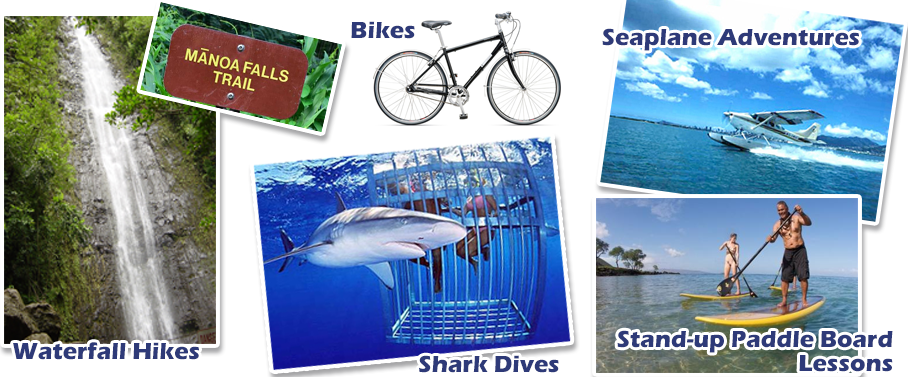 Bike Tours and Rentals
Looking for things to do in Honolulu? Hop on one of our well-maintained bike rentals and get the family out to explore Hawaii by bike!
Rent a Bike
We have plenty of bikes to rent, but they do go fast! All rentals include a helmet, lock, bike map, lights, a flat repair kit, and lots of friendly advice on where to ride to enjoy Oahu, Hawaii. Call (888) 926-4561 to check for available rentals.
Reservations
We will reserve bikes for full payment of the 24 hour rental rate. This fee is included in the final rental cost. Availability is limited and bikes are reserved only if payment is taken. There is a $10 non-refundable fee
for reservation cancellations.
1 (888) 926-4561
[email protected]
150 Kapahulu Avenue Honolulu, HI, 96815
Oahu Seaplane Tours
Relive the romance of old Hawaii and take off and land on historic Ke'ehi Lagoon with Hawaii's only seaplane operation. Soak up the dramatic Oahu scenery from the air – everyone gets a window seat!
See the beauty of Oahu from Hawaii's only seaplane operation as you take off and land from Oahu's Keehi Lagoon. After your take-off from the beautiful blue waters, climb out alongside Honolulu before passing the iconic Waikiki Beach with a fly-over of the unforgettable Diamond Head Crater. Depending on the tour, take in stunning views of the prestigious Kahala area, Hanauma Bay, Chinaman's Hat, and the famous beaches of the North Shore. All tours end with a pass over the gleaming USS Arizona Memorial on this unforgettable seaplane excursion over the highlights of Oahu!
Book a Seaplane Adventure
Diamond Head Crater Tour / Hike
Diamond Head Crater is one of the most iconic landmarks in Hawaii and can be seen as part of the skyline from Waikiki Beach. 19th century sailors dubbed the 760-foot volcanic crater "Diamond Head" after mistaking its sparkling calcite crystals for diamonds. Diamond Head is now a popular hiking destination for folks looking for an easy hike and breathtaking views from the summit, stretching from Waikiki to Oahu's south shore.
Tips for Visiting Diamond Head Crater
Hours of Operation: Diamond Head Crater is open daily from 6:00am-6:00pm, including holidays.
Things you should know:
– Allow yourself 1.5 – 2 hours to hike the trail.
– Pets are not allowed at Diamond Head Crater unless they are service animals.
– There is an interpretative gift shop at the trail head where you can purchase memorabilia and souvenirs.
– The last entrance to hike the trail is at 4:30pm. Gates will be locked at 6:00pm nightly and all visitors must be out of the park.
– A nominal entrance fee is charged either by car or individuals entering the park as pedestrians.
Diamond Head Crater – CLICK HERE!
Pacific Aviation Museum
The Pacific Aviation Museum at Pearl Harbor is located within former WWII hangars that still bear the scars of Oahu's 1941 attack, preserving the history of aviation during this era. Ranked as one of the top ten aviation attractions in the U.S., this museum is home to numerous restored fighter planes from history. With interactive flight simulators and exhibits showcasing authentic airplanes, this is a must-see sight for aviation and WWII buffs.
Book the Pacific Aviation Museum – CLICK HERE!
Polynesian Cultural Center
The Polynesian Cultural Center is home to the famous Alii Luau and world's largest Polynesian night show! Located in north east Oahu, facilities feature seven native pacific island villages and demonstrations of the daily traditions of their people. Explore everything the park has to offer, from fun activities, music and entertainment to authentic cultural presentations. Add Oahu's most famous luau and a evening spectacular to see why Polynesian Cultural Center is Hawaii's top paid attraction.
Tips for Visiting Polynesian Cultural Center
Hours of Operation: The Polynesian Cultural Center is open daily from 11:45am to 9:30pm, except on Sundays, Thanksgiving, and Christmas Day.
Things you should know:
– Parking is FREE at Polynesian Cultural Center.
– Full Day packages start admission between 12:00pm – 2:00pm, depending on your preference of transportation time from Waikiki.
– Late-Entry packages start admission at 4:00pm and will give you about an hour to explore the center before dinner.
– Several of the center's events are presented outdoors and may be closed or delayed due to inclement weather.
– There are many dining options to choose from depending on your budget, from snack shops to lavish seafood buffets and luaus.
– Alcohol is not served or allowed to be consumed on the premises.
– Same day re-entry is allowed.
– A limited number of wheelchairs and scooters are available for rent for disabled guests at a small fee.
Tours visiting Polynesian Cultural Center may visit for lunch or for an entire day.
Polynesian Cultural Center – CLICK HERE!
Want to checkout the other side of the island? The North Shore awaits!
North Shore / Haleiwa
The North Shore of Oahu is a fabled surfer's haven, known for its gigantic winter waves and professional surfing competitions. Watch brave surfers tackle merciless North Shore waves at Banzai Pipeline, Waimea Bay and Sunset Beach for a truly thrilling experience. During the summer, the North Shore offers calm waves, plenty of peaceful places to swim and miles of perfect white sand beaches. Be sure to plan a stroll through historic Haleiwa Town and its laid-back bistros, galleries and boutiques.
Book a trip to the North Shore / Haleiwa Town – CLICK HERE!
We're always here to help…
That's just a few of the things that your staff here at Concierge Waikiki recommend. If you prefer us to book for you we'd be happy to assist, just give us a call or stop by the front desk and we'll set everything up for you.